Mohammad Abadeen
Professional Boxer Mohammad AbadeenTwo time Ontario Champion, trained by Rafael Delgado through his amateur career and now is being trained and managed by John Melich.
In the News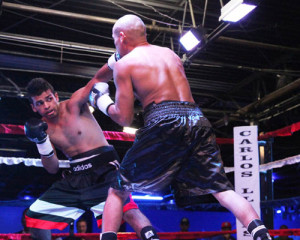 On Friday, August 2, in Detroit, Michigan, former Provincial amateur Mohamed Abadeen from Brampton, Ontario, training out of the Champion boxing club at 135 lb, took on Adam Alveraz, 138 lb, from Toledo Ohio. Abadeen dropped Alveraz 3 times with vicious left hooks and right hands, bringing his record to 2 wins, 0 losses, while bringing the fans to their feet.
Former Canadian National Champion Luis Valdivia, fighting his 3rd professional bout, faced more experienced boxer Anthony Kelly from Michigan. The local boxer and handlers showed bad feelings at the weigh in with Valdivia at 160 lbs and Kelly with his washboard abs at 154.
John Melich, the owner of the Champion Boxing Club, stick handled the other camp to an offer they couldn't refuse.
The fight was scheduled 158lb. Valdivia earned his respect as usual walking in the ring with his line backer shoulders, a former student from Fenton High school and an all-around athlete capturing the full capacity crowd. In Round 1 Valdivia demonstrated patience as he used powerful left hooks to the body and to the head, wearing down the more experienced Kelly.
On the other hand, Kelly landed several overhand rights that left Valdivia's jaw swollen like a balloon. In the last and final round Luis Valdivia landed a devastating left to the body, left uppercut and a sneaky short right hand, dropping the veteran, earning unanimous decision.
Again another crowd pleaser. Both fighters have been offered to fight in Michigan in September.
For Luis Valdivia, this brings his record to 3–0.